135compact.com

35mm ultra compact cameras Minox GT

The Minox GT is one of the smallest cameras for 35mm film ever built. It's fully manual. Its main features are:

35mm F2.8 lens, min. focus 0,9m
Aperture priority (2.8-16), electronic shutter, 30sec*.-1/500, speed indication 1-1/500 in the viewerfinder window *shorter with higher ISO. There are reports that this model can make long exposures up to 30 min.
Size 100x61x31, Weight 200 gr. battery included
25-800 ISO, backlight compensation, self-timer, hot shoe, cable release socket




Front closed.
Back side.
Seen from above. Rewind lever, self-timer and hot shoe, battery test button and backlight switch, shutter button, cable release socket, exposure counter.

Seen from below. Film compartment opening lever, ISO setting, tripod socket, rewind unlock button.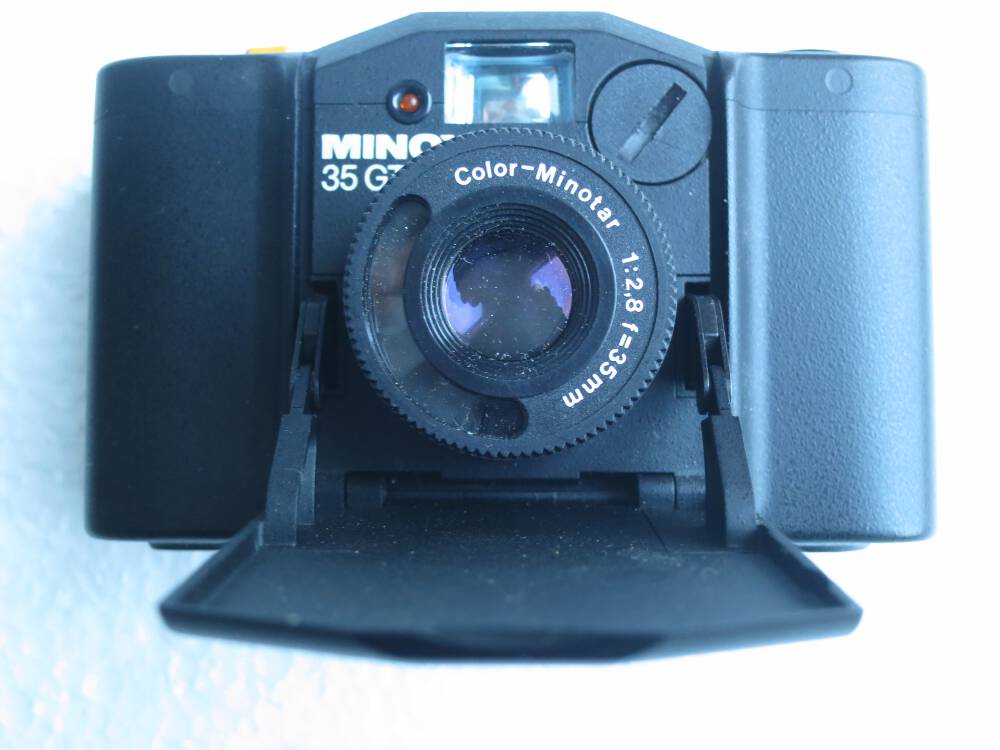 Camera open, lens extended. Self-timer lamp, viewfinder and battery compartment (1 PX 27 battery, to be replaced by a S27PX silver oxyde battery)* see also last paragraph below


Camera with flash attached. Shutter speed automatically sets to 1/125. Takes 2 AAA batteries. The FA35 fits the GT and has a guide number of 14 (m/ISO 100).


Film compartment open.



A nice original genuine leather case.



Could also be used as half case. And yes, that is another GT camera. I gave away the first one and regretted it. So this is my new one.

The GT model is a good compromise. It has a better shutter than the earlier models and a clearer design than the later models. Extremely lightweight, yet quite sturdy. *The battery problem has been solved. There is now a 6v 4LR43 Alkaline battery which fits right into the compartment, it is cheap and it works well.