135compact.com

35mm ultra compact cameras Lomo LC-Wide



The Lomo LC-Wide is a very small ultrawide 35mm film camera with automatic exposure, in fact it's a Chinese LC-A+ with an ultra wide lens. It was released in 2011. The original of this camera was the Cosina CX-2, from which Lomo copied its LC-A widely. It is very easy to handle: You just slide dustcover open and it's ready. Its main features are:

17mm F4.5 Minitar-1 lens, 2-zone focus, min. focus 0,40m
Automatic electronic shutter, +120sec(!!).-1/500, Aperture F 4.5-16. Battery o.k. and exposure warning LED in viewfinder
Size 108x68x44,5, Weight 220 gr.
100-1600 ISO, double exposure possibility
3 film formats: 24x36, 24x24, 18x24





Well protected behind the "dust cover", ISO setting and indicator, focussing lever. A

bove. Exposure counter, shutter button, hot shoe with cover, rewind handle.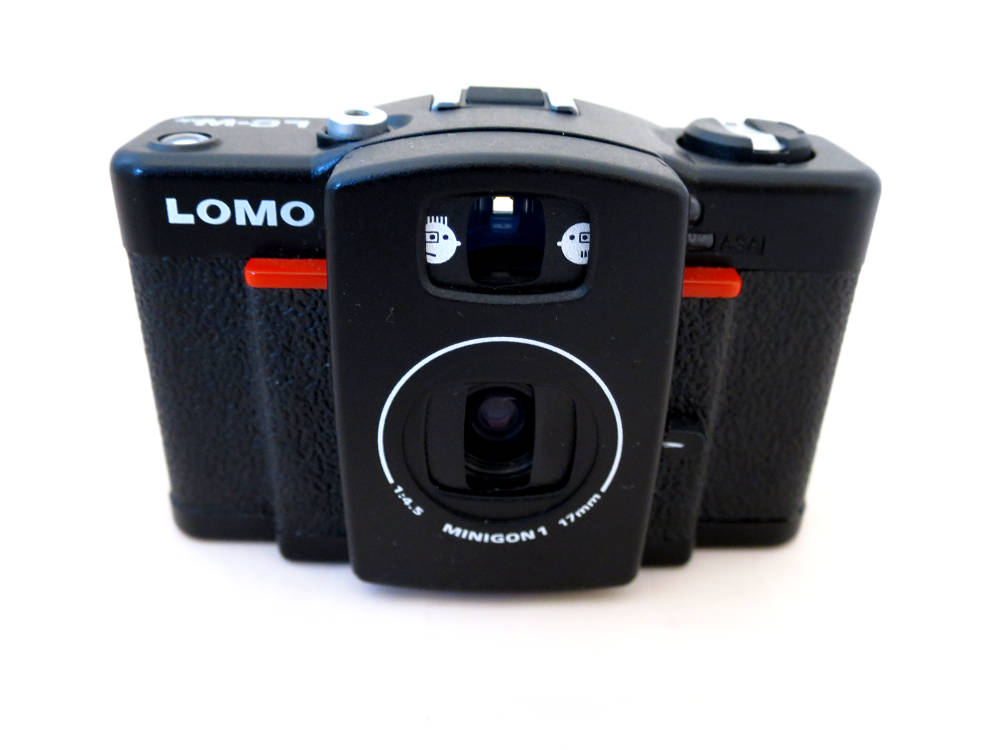 Dust cover half open for 18x24 format.



Cover open



Seen from below. It takes 3 LR/SR44 batteries, still available. Motor wind coupling (the motor wind was never released.), rewind unlock button, film advance selector (full/half), double exposure release, tripod socket, battery compartment. Under the lens: cover sliding lever with intermediate setting for 18x24.



Full front view.



Seen from the back. Film type window, viewer, film advance wheel.



Camera open.



A nice gadget from Lomography: an instant back for Fuji Instax Mini Film. It uses the Instax back from the LC-A+, but needs an extra adaption set. The set contains a viewer and a magnetic compensation lens which clips in front of the original lens (the LC-A has a compensation lens which clips behind the lens, inside the camera). The photos cover full format with very heavy, Lomo-style vignetting. And yes, I own 2 Lomo LC Wide.

The Lomo LC Wide is unique. There is no other compact ultra wide camera with 17mm or near to it. There was the 15mm Zeiss Hologon camera in the 70s, a full size camera, it was F 8 and it costs thousands. The Lomo has a F 4.5 lens which has relativly mild distortion and very low vignetting for such a wide lens. It's a nice and easy to handle camera. It's very compact, its long exposure capability distances most of the others. Seen its lens it isn't even that expensive.

The 3 formats are more kind of a gadget. The 18x24 format has its own film advance, so you can squeeze about 75 photos on a 36 exp. film and it has its own viewing mask. The 24x24 format is just a film mask inside the camera, spacing is 36mm, so I don't see the use of it. The camera is real fun if you are into wide angles, like I am. There are many enthusiastic reviews on the web which I find quite annoying, there is a lot of copy and paste from the clever Lomography marketing material.

Seen the price, the build quality seems to be dubious. This was confirmed to me by a Polish repair firm. Especially the shutter button seems to be a problem. I have 2 LC Wide cameras and an LC-A+ with issues, one of them new, but as it was a present, I could not get my hands on the warranty papers. Thanks to the Polish guys both versions could be repaired. Meanwhile they have disappeared from Ebay and I have not heard about another good repair firm.

Some gereral words about Lomography and their service: There is a 2-year warranty, at least in Europe. My personal experience with their service is good so far. As most of their cameras are made of (cheap) plastic, there is no repair, they just exchange your defective camera. You have to send it in to their Vienna firm at your expenses, which is not cheap if you are not based in Austria, but they try to compensate by adding film or so to the return. You absolutely need a proof of purchase, there was heavy abuse by fraudulent customers they told me. So if you buy second hand or your camera is gift, be sure to put your hands on the proof of purchase. After the 2-years warranty period it's over. They will try to help for the expensive not-so-plastic cameras like the LC series, but for the rest there is no repair. Keep this in mind for the prices you pay for older gear.