135compact.com

35mm ultra compact cameras Rollei Prego Micron

The Rollei Prego Mikron is a rebranded Ricoh R1. It belongs to the smallest wide angle (28mm) cameras for 35mm film. It's a point and shoot ultra compact 35mm film cameras. It has been released in 1994, two years before the GR1 top class series. The Rollei features a Schneider lens with the same data as the Ricoh lens, but it is possible that one is only a branding of the other, it is not known who really made the lenses, Schneider or Ricoh.

Its main data are:

30mm/24mm F3.5/F 8 Schneider AF Courtagon lens, autofocus with focus lock, min. focus 0,35m
Electronic shutter, 2s-1/500
Size 117mm x 61mm x 25mm (Grip: 34mm), Weight 145 gr. without battery
50-3200 ISO, automatic DX coding, automatic mode, multi object or spot metering, self-timer, automatic film advance

The camera features a panoramic setting and a 24mm panoramic only setting. The 24mm has heavy vignetting which is hidden by the panoramic shutters. The shutters can easily be blocked in open position, but vignetting is really heavy.


Camera front.
Flash guide number ~10 (m/ISO 100).


Camera front open.
The lens only moves out only a little bit.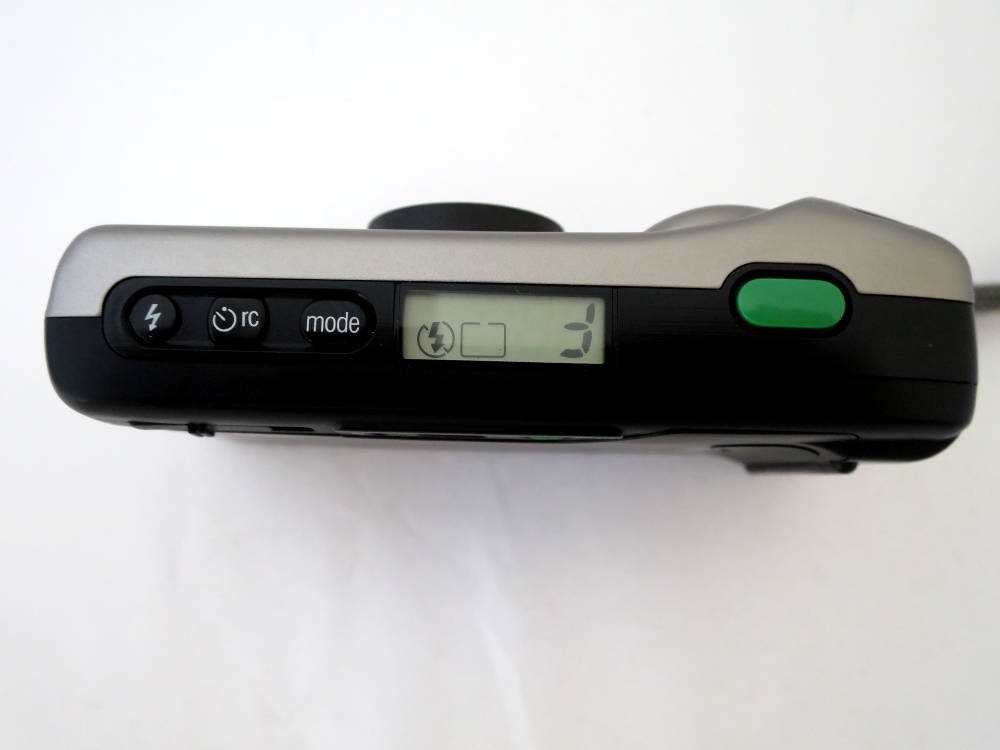 Top.
Flash setting, self timer/remote, mode setting, LCD screen (beginning dead screen, first number completely missing, second affected), shutter release.



Back. Panorama mode swith, AE and flash control light, viewer, on/off button. Film type window.



Bottom. .
Tripod socket.
Strap lug on the edge.
Battery compartmentis on the side,
takes a CR2 battery.

Camera and original case.

This camera is one of the smallest full frame point and shoot cameras for 135 film. It's a quality ultra compact with a very good lens. Autofocus is responsive and works well. Putting a film is easy, you drop the film into the camera, tear the film leader up to the mark and that's it, the camera prespools the whole film. Seen the size, handling is logic and easy. Pictures are sharp and and the contrast is good as well.

All Ricoh and Rollei Prego Mikron cameras will sooner or later die from a dead LCD screen. There is no repair service any longer. Keep in mind that there are 2 LCD screens: one on top and one in the finder. Both have issues. When they fade, the camera can still be used for a while, but it could be over soon. As long as the film numbers are missing, you just don't know how many photos are left. But when the mode symbols are missing, you don't know which mode it is using. Of course you can count the pushes on the mode button from start and hope you got it right. In case of doubt, switch it off, put it on again and count anew. If the LCD in the finder dies on the Rollei, it's not a big problem. It is however on the Ricoh GR1, it's the end of control over manual mode and focus.

Before giving away my last Ricoh, that one had the last number incomplete, but still guessable and it stayed so for 3 years without getting worse. So if you come across a cheap one, it might be worth trying. But if you pay full price, be careful choosing your camera dealer. I was not lucky with this one either.

My camera has a date feature which I find useless. But if you like or need the date stamp, you can be served. As there is no free manual available to my knowledge, just download the one for the Ricoh R1.